GAS DETECTION SOLUTIONS
Protecting People and Property
In parking structures, vehicle exhaust is a significant safety concern and can result in sickness and even death if not ventilated properly. Gas-powered vehicles make use of these structures on a regular basis and emit the toxic gas carbon monoxide (CO). For gas detection applications in which diesel engines are employed, nitrogen dioxide (NO2) is emitted. In both situations, these toxic gases should be measured and appropriate ventilation must be activated when high concentrations of CO or NO2 approach unsafe levels.

Most mechanical codes indicate that ventilation for parking structures should be continuous unless a system is in place to ensure hazardous gas concentrations are kept below prescribed levels. By ventilating only when sensors indicate a requirement, there is an opportunity for very significant energy savings, both from reduced fan operation and from any related heating or cooling costs.
Vehicle exhaust presents an interesting challenge when designing a gas detection system. Because of the wide variety of applications, including underground parking garages, bus barns, maintenance facilities, tunnels, train stations, airports, loading docks, car and truck dealerships and warehouses, a number of different gas detection solutions exist to satisfy the varying requirements.
Engineered Controls exclusively uses Honeywell Analytics gas detection products for a comprehensive range of gas monitoring in instrumentation for commercial buildings. Honeywell Analytics makes it easy to adapt quickly to changing building requirements with solutions that safeguard against toxic and flammable gas hazards in buildings and parking garages.
Complete Gas Detection Systems for Boiler and Chiller Rooms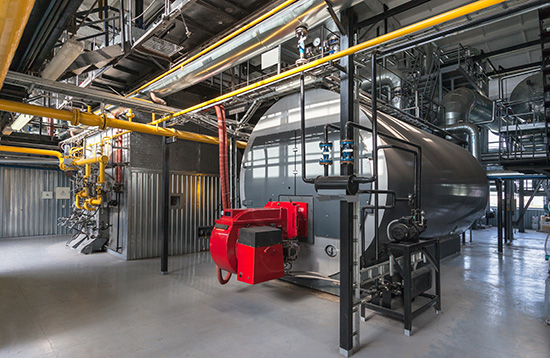 A building's mechanical room is the hub of its heating, ventilation and air conditioning (HVAC) systems. This can include central utility plants, boiler and chiller rooms, mechanical and electrical rooms and fuel rooms.
The equipment within these rooms has the potential to leak harmful combustible or toxic gases, including costly and environmentally harmful refrigerant gases.
Engineered Controls is passionately committed to helping our customers achieve their hazardous gas needs with our Gas Detection solutions. By teaming with Honeywell Analytics monitoring and control products, your mechanical room boiler and chiller equipment are protected and ensure safety for occupants, reducing the cost of expensive refrigerant replacement from leaks and minimizing installation and maintenance costs.
Improve your environment with the IAQPoint2
High levels of CO2 can cause drowsiness and create an inefficient work environment for building occupants. To combat this problem, building managers may choose to run the ventilation system continuously, but this is an inefficient, costly practice. With IAQPoint2 in place, the ventilation system can do its job appropriately and efficiently, to the benefit of your bottom line.
IAQPoint2 detects many gases common to building areas including carbon dioxide, carbon monoxide, methane, nitrogen dioxide and VOCs.
The gas detection systems we provide will seamlessly integrate with your building management system that is used to control and manage your HVAC units, lighting, energy, access control, video surveillance and intrusion detection solutions as well.
To learn more about how our Gas Detection solutions can improve your business, contact your local Engineered Controls office today.
Our Commercial Gas Detection Partnership

Honeywell Analytics – Engineered Controls is a Certified Dealer of Honeywell Analytics gas detection and refrigerant monitoring products. This means that Engineered Controls meets Honeywell Analytics dealer requirements for consistently delivering the highest level of quality service to their customers.